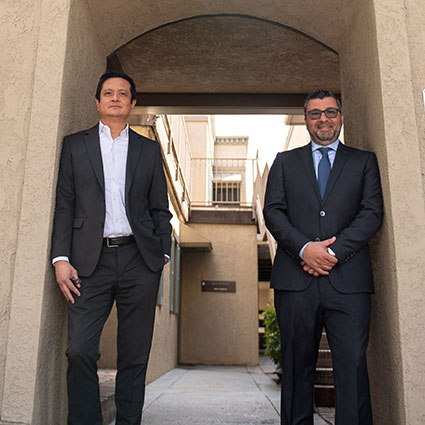 About Suarez Toutoundjian Chiropractic Corp.
Chiropractic care that moves you forward.
Our Philosophy
Rather than spread ourselves too thin trying to address many patients, at Suarez Toutoundjian Chiropractic Corp., we focus exclusively on auto, PI and workers' compensation injuries. Our goal is to provide the best care possible based on each patient's individual needs through one-on-one attention and clinical competency.
We start by conducting a thorough examination so we can identify all the underlying issues related to your condition, and then create a unique, comprehensive care plan to help you get out of pain, restore mobility and get back to living your best life.
Our History
Our chiropractors, Dr. Miles Suarez and Dr. Serge Toutoundjian, both graduated from Cleveland Chiropractic College in LA in 2001. After working as associates in other offices for a bit, they teamed up to open their first location in Bakersfield.
Our intention has always been to fill this specific niche of offering care to patients injured in accidents because so many chiropractors have veered away from this type of care—and accident injury patients need and deserve the holistic, non-invasive form of care chiropractic provides.
When we saw a need for outstanding chiropractic care for patients in the outskirts of Los Angeles who had been injured, either at work or in auto or PI accidents, we opened our Palmdale location in 2008 to fill that void.
MEET OUR DOCTORS
Empowering Care
Our office is relaxing, empowering and hopeful. We do everything we can to reduce the stress patients feel after being hurt in an accident—we are friendly, personable and focused on education. We want you to understand your injury and how chiropractic care and our other healing modalities can help you recover.
This Is What We Do
We know exactly how to help you navigate the system of dealing with insurance carriers and attorneys. Your best interests are always in the forefront of our minds, and we have been able to help many patients over the years who were initially denied care by carriers. We will work with you to ensure you get the care you need.

About Suarez Toutoundjian Chiropractic Corp. | (661) 274-0899