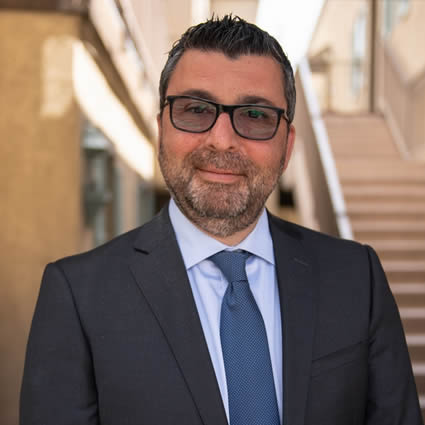 Meet Dr. Serge Toutoundjian
The Path to Chiropractic
Dr. Serge attended USC intending to go into some branch of health care. A friend was going to chiropractic college and invited him to his school to show him around. The more Dr. Serge learned, the more he was intrigued with helping people without drugs or surgery. He decided this was the way he wanted to help others, and he enrolled at Cleveland Chiropractic College in Los Angeles.
He graduated with his Doctor of Chiropractic degree in 2001 and began work as an associate. In 2003, he opened our first Suarez Toutoundjian Chiropractic Corp. location in Bakersfield with his friend and former classmate, Dr. Miles Suarez. They opened our Palmdale location in 2008.
Offering Niche Care
While many chiropractic offices offer care for things like pediatrics, pregnancy or wellness, Dr. Serge and Dr. Suarez felt there was a lack of competent chiropractors focused on providing holistic, non-invasive care for people hurt in accidents. Rather than trying to be everything to everyone, our approach is to do this one thing and do it better than anyone else.
Dr. Serge felt validated in this approach early on. One of his first patients, a musician, had suffered a disc herniation that prevented him from playing. Dr. Serge designed a care plan specifically for him and, upon completing care, the MRI confirmed that the disc issue was resolved, and no surgery was ever needed.
Over 20 years later, Dr. Serge is still passionate about
chiropractic care
and how it can help patients recover from injury and get their lives back.
True Empathy
Dr. Serge has back problems and is a chiropractic patient himself, so he understands what our patients are going through and can empathize with their pain and frustration. He is personable and he tells patients, "I feel you."
In His Spare Time
Spending time with his wife and dog are at the top of Dr. Serge's list when it comes to leisure activities—but he is also a huge sports fan.

Dr. Serge Toutoundjian | (661) 274-0899